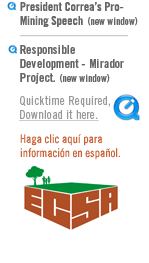 Corriente Resources Inc. is a Canadian-based resource development and exploration company specializing in copper and copper-gold opportunities. The company's main focus is its 100% owned Corriente Copper Belt in Ecuador. Corriente has completed a feasibility study on an initial starter operation at its Mirador copper-gold deposit. Corriente looks to expand operations at Mirador past the starter project and from other locations in the Corriente Copper Belt.




March 28, 2011:
Effective Mar 28, 2011, Corriente Resources Inc. will change its address as follows:
Corriente Resources Inc.
Suite S209-5811 Cooney Road
Richmond, B.C. V6X 3M1
Phone: (604) 282-7212
Fax: (604) 282-7568
We look forward to all correspondence to this new address starting on the designated date...More.